Daniel Johnston – POSTPONED
and Reubens Accomplice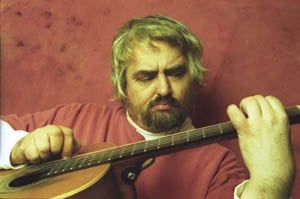 Daniel Johnston – POSTPONED
Saturday, November 10th 7:00PM
and Reubens Accomplice (7PM/21+/$20 adv $22 dos)
This event has passed.
 Due to unforeseen circumstances, the Daniel Johnston show has been POSTPONED.  We are working with the artist and management to reschedule a date as soon as possible.  Hold on to your ticket, and it will be valid for the make up show that will be announced shortly.
Daniel Johnston
Daniel Johnston is a prolific American singer-songwriter and artist. He has been classified as an outsider musician.
His songs are typically painfully direct, and often display a disturbing blend of childlike naïvete with darker, "spooky" themes. Johnston's singing voice is rather high-pitched, and his performances often seem faltering or uncertain; one critic writes that Johnston's recordings range from "spotty to brilliant". He also draws and paints; he is a cult comic book artist and his illustrations have been featured with most of his albums.
Johnston was born in Sacramento, California and grew up in West Virginia, United States, but now lives in Waller, Texas. Johnston suffers from manic depression, and has had varying luck with different treatments. He has been institutionalized for periods.
Johnston gained a cult following in Austin, Texas. Some regarded Johnston as little more than a quaint curiosity, but others recognized a genuine talent: Johnston has a knack for creating great, catchy melodies, while his lyrics are evocative and often use clever wordplay. His songs have been covered by a number of admirers.
–
Reubens Accomplice
The North Phoenix, AZ, emo-core quartet Reubens Accomplice consists of Jeff Bufano (guitar, vocals), Andy Eames (bass), Chris Corak (guitar, vocals), and Jim Knapp (drums). Formed in the mid-'90s, the band honed their act by booking and promoting their own shows (which led to opening spots with such similarly styled bands as Brainiac, Jimmy Eat World, Karate, Pedro the Lion, and the Promise Ring), as well as self-issuing their own 7″ singles. In 2000, Reubens Accomplice began working on a full-length debut for Better Looking Records but had to put the project on hold several times until its release in September 2001.